BUSINESS UPDATE TO CORONAVIRUS
Updated May 4th 2020
We are happy to announce our re-opening on Monday, May 11, 2020!!!
As always, safety is of the utmost importance for our patients, staff and community. Keeping that in mind, we are adhering to guidelines set forth by the CDC and our city and state health care experts. Although we will be opening in phases, certain requirements must be followed by all patients and staff members to ensure a safe environment for all. These include:
• Wearing a facemask at all times (chances of spread are SIGNIFICANTLY reduced)
• Temperature and COVID-19 symptom checks
• Limiting office visits to the patient only
• Please bring your own pen for use in the office
• Option to wait in your vehicle prior to your appointment
We will continue to offer our virtual consultations!
We appreciate your understanding during this time and are happy to answer any questions about both our own safety protocols as well as CDC guidelines for re-opening. We will continue to adhere to the highest standards, both from a safety and ethics standpoint.
Our patients are our family and we will treat you as such. We look forward to seeing you again soon!!!
Sincerely,
Aesthetic Surgery of Charlotte
How We're Helping To Flatten The Curve
Updated April 27th, 2020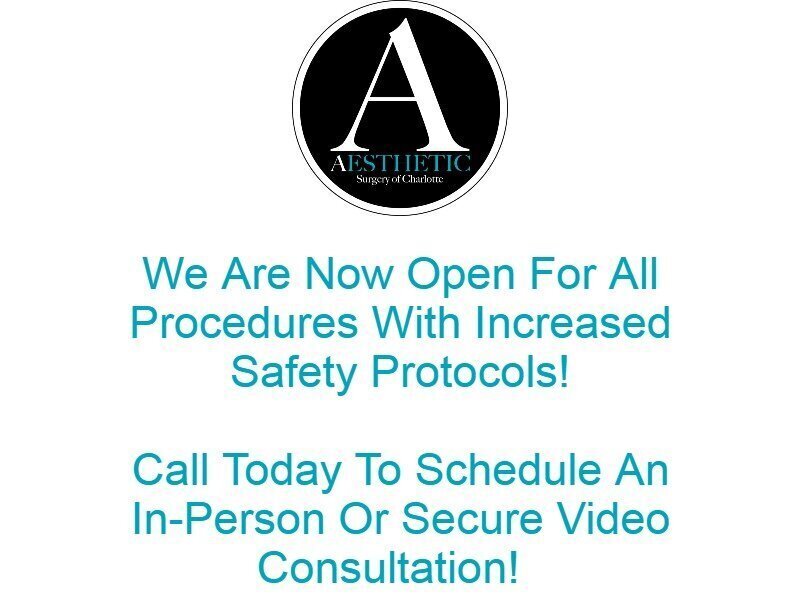 Updated April 27th, 2020
We will start performing elective surgeries on May 4, 2020 with the following requirements:
Due to mask availability limitations, patients should arrive with any mask that follows CDC 'in public' protocols including but not limited to a medical mask, a doctor's mask, cloth mask, scarf, or other CDC recommended face covering.
Each patient will complete a questionnaire over the phone prior to entering the building, or immediately upon their arrival to the facility.
Their temperature will be taken, if greater than 99.5 and any other symptoms, the patient will not receive their injection treatment.
Consultations will also complete the questionnaire and should arrive wearing a mask as described above.
Injections patients from May 9th to May 15th, (and possibly longer), will only receive treatments outside the facial mask area.
Additional injection services may expand after May 15th.
All patients will be screened prior to starting surgery.
If the patient has a temperature of 99.5 or higher and any other symptoms, they may not be seen.
Due to other limitations, surgeries each week may be limited.
Each patient having surgery must have a COVID-19 test that returns negative before the surgery can be performed.
Tests are done two to three days prior.
The patient must self-quarantine from the time they complete the test until they arrive for surgery.
Upon arrival to the facility, patients may call (704) 538-4843 and ask what time they should enter the building for their appointment.
If patients enter the building, as recommended by the CDC, please stay at least six feet from other people and wear a mask as described above.
Thank you in advance for your cooperation during this difficult time."
Updated March 17th, 2020
Dear Patients, Visitors, Family & Friends
Our thoughts are with you and your family during this uncertain time. We've learned a lot building our practice, and the most important is focusing on you – the number one priority.⁠
We want to thank our patients for understanding the need to postpone all surgeries until it is safe to proceed. We do this with your safety in mind and to keep surgical facilities and equipment available for those who truly need them. ⁠
However, you can schedule a virtual consultation from the comfort of your home.
Procedures scheduled from March 23rd through April 18th have been postponed. We hope to return after this date, but the truth is that we just don't know. If you have a procedure scheduled between April 20th and May 4th it will remain on the calendar, but keep in mind it be postponed if conditions deem it necessary. ⁠
Patients who have recently received a procedure and have a concern that needs addressed in a timely fashion will be seen at the office on a case by case basis.⁠
We are also postponing spa services and injectable treatments in order to follow the social distancing recommendations. ⁠
Our office hours are now from 9:00am to 3:00pm. However, you can reach us by phone or email at any time in our profile. If you get our after-hours recording, please leave a message and someone on our staff with get back to you as soon as possible. ⁠⁠
It is our mission at Aesthetic Surgery of Charlotte to always lead with integrity, especially during times such as these. Please know that as we work to do what's right during this crisis, we will work just as hard to accommodate our patients as best as possible when this has passed.⁠
We hope you and your families have a safe and connecting time at home, and we appreciate your continued support to keep your community safe.⁠
Sincerely,⁠
Dr. Adam Augenstein⁠
Common Questions:
Yes! We are offering virtual consultations.
As of this writing, we have kept up our office and surgical facilities to the highest standards. We are limiting our office visits to already scheduled surgical visits.
Although our surgery schedule is booked solid until May, you can call to join our waiting list or schedule a new appointment this summer.
If anything changes and the CDC alters the timelines by which we can perform safe and effective surgery, we will work with you to reschedule.
Business personnel have been busy with increased cleaning at the office, focusing heavily on high-touch areas.
We will immediately implement any new CDC guidelines as this pandemic unfolds – your safety is our top priority.